First, my apologies, friends. I thought I had scheduled this post to go live aaaaaaaaages ago, but apparently not. Secondly, things got a little crazy at work, and then I went on two awesome vacations, so I've been pretty absent around these parts. Fortunately, vacation time and 12+ hour plane rides meant lots of reading, so I have several more reviews coming up soon! (You can check out my Goodreads page if you want a sneak peek at what's coming.)
I'll probably post a quick edit of some of my favorite vacation photos too, and I thought about maybe doing a post on how I packed for both vacations (China and the Czech Republic/Paris, respectively) and what I forgot/didn't need. Would you all be interested in something like that? I feel like when I was scouring Pinterest and the internet at large for packing tips, most of what I found was for backpackers as opposed to people staying in hotels/apartments… Let me know!
Now, on to the good stuff!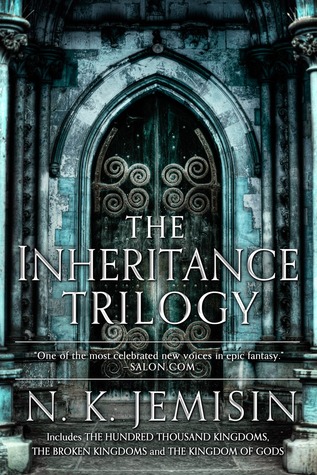 I loved this series. I read the omnibus edition, which has all three and a "half" novels in one. I received this book from NetGalley and read it in my Kindle app, which was super convenient because this omnibus edition is about 1400 pages long! Although the individual books were released a while ago, I had never heard of them, but on NetGalley it stuck out to me for some reason and I decided to give it a go. When I saw in the introductory blurbs that this had Felicia Day's stamp of approval, I knew I'd like it 🙂
Rich in detail, with a complex plot and a good variety of characters and viewpoints, I never felt like this was falling into the standard fantasy tropes. Of the three books contained in this edition, I think the first book was the strongest and would be equally enjoyable even if you read it as a stand-alone, but I enjoyed them all and each story added it's own interesting details to the world that Jemisin has created.
I particularly love that each of the books visits the same world, but in different places and at different times, narrated by different characters, so you can really get a sense of the whole society, rather than just a snapshot of particular characters in a particular place at a particular time. There is enough continuity of characters and places, though, that the books feel like they belong together and it isn't overly confusing to the reader. (One of my favorite YA/fantasy authors of all time, Tamora Pierce, is equally good at this aspect of fantasy writing. If you're going to spend the time coming up with a whole fictional world, and a good one at that, I want to get enough information and perspectives to feel like I'm immersed in it!)
Not everything in these books is sunshine and roses (although it's not anywhere near Game of Thrones-level bloodshed/intrigue) but if you like fantasy, magic, and political machinations, you'll like this book. I highly recommend this series to anyone looking for a good fantasy read, and I'll definitely be checking out any of Jemisin's other works!
What was the last great fantasy book that you read? I'm always looking for new material 🙂