Friends, I tried my hardest to get hold of an advance copy of this book, but I just couldn't make it happen. Since I was so head-over-heels for the Throne of Glass books, I decided to go ahead and pre-order this one from Barnes & Noble for my Nook app so I could read it right away. Of course, I finished it just a few hours after it landed in my inbox.
It was awesome.
But I've been sitting on this post for a while because I was having a hard time writing a review that wasn't too spoiler-y or too basic and vague… Anywho, here we go!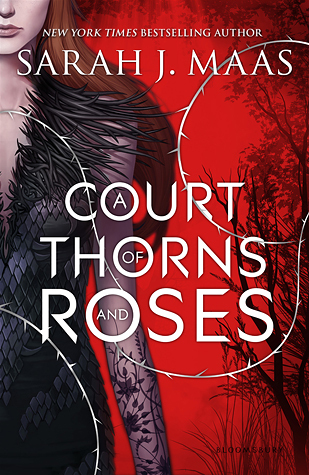 First of all, how amazing is that cover!?! I like that it gives you an idea of what the main character looks like without being the "girl in a formal dress looking over her shoulder" style that's become ubiquitous. Also, red. Which is very fitting given the plot of this story. To get us started, here is the publisher's blurb:
When nineteen-year-old huntress Feyre kills a wolf in the woods, a beast-like creature arrives to demand retribution for it. Dragged to a treacherous magical land she only knows about from legends, Feyre discovers that her captor is not an animal, but Tamlin—one of the lethal, immortal faeries who once ruled their world.
As she dwells on his estate, her feelings for Tamlin transform from icy hostility into a fiery passion that burns through every lie and warning she's been told about the beautiful, dangerous world of the Fae. But an ancient, wicked shadow grows over the faerie lands, and Feyre must find a way to stop it . . . or doom Tamlin—and his world—forever.
Perfect for fans of Kristin Cashore and George R. R. Martin, this first book in a sexy and action-packed new series is impossible to put down!
First of all, the relationship between Feyre and Tamlin is a slow burn with a few bumps in the road, not an insta-love like the publisher's blurb might suggest. There are lots of hard choices to be made, and Maas doesn't pull punches to give Feyre an easy out, which I quite liked. About 2/3rds of the way through the book we learn more about Feyre's family and a lot of depth gets added to their characters, which really took this book to the next level for me – it would have been so easy to use the family characters as set-up in the beginning and then leave them there, as flat, one-dimensional individuals who were holding Feyre back and had little to no redeeming qualities of their own, but Maas took the time to give them layers and make them continue to be an important part of the story and Feyre's choices. Bravo.
There are a couple of characters that "help" Feyre out at various points in the story – for a price, of course. We're dealing with the Fey here. Based on those characters I'm anticipating much more political gamesmanship in the next book, which is great, because Maas does so well with the politics and individual characters' motivations in the Throne of Glass books. I'm also looking forward to seeing more of Rhysand in the next book, because I'm always a sucker for a tall-dark-and-handsome bad boy 😉 Although this is known to be a sort of Beauty and the Beast retelling, Maas very skillfully places the story in the world of the Fey and gives nods to the original tale while staying true to her own writing style and keeping the story fresh. If you know it's there, you can most definitely see the parallels, but subtle enough that you could miss it if you didn't already know.
While I really enjoyed A Court of Thorns and Roses and I love Sarah J. Maas's writing, I think I like the Throne of Glass books just a little bit more. The two series each have a distinct feel to them, and I find that world and those characters a bit more intriguing. It probably stems from the fact that Throne of Glass is a totally original world from the author. That said, I will definitely be reading the rest of this series.
If you like a darker sort of fairytale à la Holly Black or Gregory Maguire, A Court of Thorns and Roses should be right up your alley!