Seriously, that title. If you know of any book with a better, more evocative title, please share in the comments, because I don't think one exists!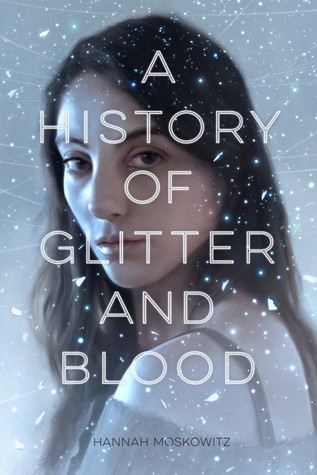 A History of Glitter and Blood will be available in early August 2015 – sorry for the super-advance review, but I was too excited to wait 🙂 – mark your calendars now!
This book is brilliantly, beautifully f*cked up.
And I'm just gonna say this right up front – this is a love-it-or-hate-it kind of book. There is no in between. Also, although there seems to be an impression out there that this is a YA book, I'd say it's more along the lines of New Adult or even just plain Adult.
If you like your fantasy fiction to be all sunshine and rainbows or squeaky clean YA, walk away now. Ditto if you need clear narration and lots of detail. However, if you enjoy books that make shivers run down your spine and give you a sense of atmosphere so thick you can imagine that you're there next to the characters, keep reading!
I was immediately drawn to this book by the title. I mean, "A History of Glitter and Blood?" Hell yes!!! I knew that this was going to be a dark fairy tale type story, which are some of my favorites to read. And the cover art is amazing (although I can see how the cover would also draw in a lot of people who really aren't going to like this story.)
Here's the publisher's blurb:
Sixteen-year-old Beckan and her friends are the only fairies brave enough to stay in Ferrum when war breaks out. Now there is tension between the immortal fairies, the subterranean gnomes, and the mysterious tightropers who arrived to liberate the fairies.
But when Beckan's clan is forced to venture into the gnome underworld to survive, they find themselves tentatively forming unlikely friendships and making sacrifices they couldn't have imagined. As danger mounts, Beckan finds herself caught between her loyalty to her friends, her desire for peace, and a love she never expected.
This stunning, lyrical fantasy is a powerful exploration of what makes a family, what justifies a war, and what it means to truly love.
The narration is unique, and if you don't realize what's going on it's a lot harder to read, but I picked up quite quickly that I was reading a story where the "author" was spazzing out and writing to himself as much as to anyone else. It takes some getting used to, but this is one of the best versions of this device that I've had the pleasure to read in a long time. Without the spazzy narration and note-to-self asides, I don't think the sense of atmosphere would have been nearly as vivid.
I won't say much about the individual characters or plot, because for me, those actually weren't as important by the end as the actual feel and atmosphere they all added up to… which might sound bad, but actually I mean it in a very good way. The story touches on particular individuals and particular things that happen before and after a war, the choices they make, and how each character's individual natures affect their choices, but this story's brilliance lies in how it adds all those things up to create a very true, resonating portrait of humanity.
All that said, I loved it! If you like Holly Black or dark versions of fairy tales, you definitely need to read this.
Do you like to read books with weird narration and/or changing POVs, or do you stick to the more traditional first-person or third-person style?