Holy. YES. (!!!!!)
That's all I wrote in my notes for these books. That's probably not helpful, though, so I'll do my best to write an actual, thoughtful review for you guys 🙂
Let's start with the first book, The Bone Season: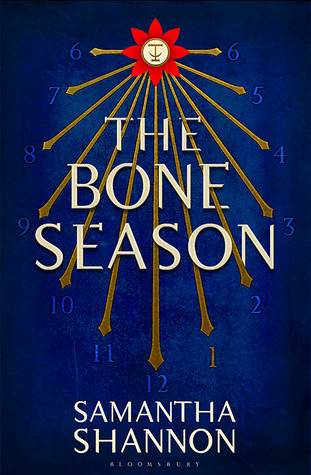 This is one of those books that I picked up randomly, when I was browsing through my local bookstore for a paperback to bring with me on a long international flight at the beginning of February. I had a ton of ebooks on my tablet (most of them from NetGalley, which is pretty much the greatest thing ever for a book-reviewing nerd like me) but I was worried about my battery running out and then having nothing to read. Well… this book didn't even make it through the first 8 hours of my travel. I started reading with every intention of putting it down once we were in the air and electronic devices were given the OK, but I was totally and completely sucked in and couldn't put it down! At around 480 pages, it isn't a skinny book either, so you know I was reading fast to see what was going to happen. I was lucky enough to not get sucked into this series until the second book was already released, and you better believe I bought the digital version of book #2, The Mime Order, as soon as I had internet service.
The publisher's blurb: The year is 2059. Nineteen-year-old Paige Mahoney is working in the criminal underworld of Scion London, based at Seven Dials, employed by a man named Jaxon Hall. Her job: to scout for information by breaking into people's minds. For Paige is a dreamwalker, a clairvoyant and, in the world of Scion, she commits treason simply by breathing. It is raining the day her life changes for ever. Attacked, drugged and kidnapped, Paige is transported to Oxford – a city kept secret for two hundred years, controlled by a powerful, otherworldly race. Paige is assigned to Warden, a Rephaite with mysterious motives. He is her master. Her trainer. Her natural enemy. But if Paige wants to regain her freedom she must allow herself to be nurtured in this prison where she is meant to die.
My thoughts: The Bone Season is a refreshing, captivating new take on the dystopian trend, and the added urban fantasy/paranormal/magic elements make it absolute perfection. Paige is a well-written heroine – she's determined, but sometimes unsure of herself or of whether she's making the "right" decision; she has power, but she needs to learn to use it. The cast of characters is large and diverse enough to keep things moving, but not so large (or so oddly named) that you can't keep them all straight. Shannon also does a great job of making each supporting character their own person with depth. The set-up of the world and how certain parts of society are structured absolutely ring true as something that could/would/has happened in reality and it lends an aura of familiarity to the world as a whole that allows other more fantastic things to seem less over-the-top. It's our world with embellishments, not something completely alien or unbelievable.
There is most definitely a forbidden-romance shtick, but I can overlook it given how amazing everything else is. The end of book #1 leaves off at a clear transition point, which I think worked out really well.
Now for book #2, The Mime Order:
The publisher's blurb: In the internationally bestselling The Bone Season, Paige Mahoney escaped the brutal penal colony of Sheol I, but now her problems have only just begun: many of the fugitives are still missing and she is the most wanted person in London.
As Scion turns its all-seeing eye on Paige, the mime-lords and mime-queens of the city's gangs are invited to a rare meeting of the Unnatural Assembly. Jaxon Hall and his Seven Seals prepare to take center stage, but there are bitter fault lines running through the clairvoyant community and dark secrets around every corner. Then the Rephaim begin crawling out from the shadows. But where is Warden? Paige must keep moving, from Seven Dials to Grub Street to the secret catacombs of Camden, until the fate of the underworld can be decided. Will Paige know who to trust? The hunt for the dreamwalker is on.
My thoughts: The Mime Order picks up right where The Bone Season left off, with Paige and her fellow voyants sneaking back into Scion London. In this book, there is a ton of information about the inner workings of the Syndicate and how voyants work and get along with each other (or don't). Paige works tirelessly to try and get the word out about the threat of the Rephaim, but she encounters a lot of trouble from unexpected quarters. The one small, niggling, complaint I have about this book is that for a "mollisher" who's supposed to be second in command of a very powerful Syndicate gang and as an individual who just went through everything she did to get out of Sheol I, Paige is still very naive. Some of that is probably an effort on the author's part to make the plot twists more unexpected, but it made me a little irritated that Paige seems to take a lot of things at face value when she clearly shouldn't.
That being said, the plot twist at the end was absolutely crazy (which is where the five exclamation points at the top of this post came from!) and not at all what I was expecting. Total bombshell. At this point I'm equal parts upset and eager to see what book #3 brings!
—
Unfortunately, now it looks as though I have to wait until next year for book #3. I'd be mad, except that this appears to be a 7 (yes, 7!) book series. Based on what I've read thus far, I have really, really high hopes that Samantha Shannon will be able to pull off a seven book series without being boring or predictable in the slightest.
One thing I will say – a lot of the online reviewers mention that they picked this up because of the blurb that Samantha Shannon is being touted as "the next J.K. Rowling." DON'T. Don't even go there. Don't do that to yourself. Only J.K. Rowling is J.K. Rowling, and if you go into this expecting "the next Harry Potter!" you'll be sorely disappointed. And that would be sad, because this book is amazing!
If you're a fan of Holly Black, The Throne of Glass series, The Hunger Games series, or if you just love a good YA dystopian book, you need to get your hands on The Bone Season books now. Trust me 🙂 Also, if you click the links above to the Goodreads pages, there are previews available for both books!
Have you read any of the Bone Season books? If so, what did you think?